I received some fun things in the mail I would like to show you.
I received a pretty notebook and a bunch of storage boxes from
Prairie Moon Quilts
for participating in an organizing challenge she was hosting. I love that the prize will help me be even more organized! Thank you so much!
When Judy from Small Quilts and Doll Quilts showed her
holiday favorites
, I noticed that she too had made a Vintage Holiday quilt - the red and white one with the kids sledding. She had used tiny buttons to represent the snow and offered me the leftovers. Thank you so much for sending them, Judy. Now I have to decide whether to use felt circles or buttons or both on my Vintage Holiday quilt.
I recently watched the Craft in America quilt special and they had a vintage quilt made out of buttons that was quite intriguing. I couldn't make anything that big, but I am considering making a small quilt out of buttons and these would be perfect for that. It won't be soon though, because I already have plans for my February and March quilts.
Blog Hops
I am going to be participating in a couple of blog hops, and want to make sure you knew about them in case want to participate too.
Carol at Just Let Me Quilt
is hosting a Color It Red Blog Hop in February. I think it will be a great theme for my monthly mini. Since I am done with my January mini, I am busy making plans for the February mini. I will be working on finishing a quilt I have already started, and am trying to figure out where I left off, what my plans were, and whether I want to continue with that plan or go a new way.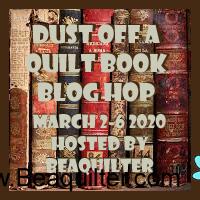 Last year, I participated in the Dust Off an Old Quilt Book hop and had a great time, so decided to join again. This year, Bea is offering a prize to the person who dusts off the oldest quilt book, so you should make sure you are fully loaded with your allergy medicine and dust mask. I found two really old books on my shelves without even trying. One of them is really old and bound to be the winner, but I've chosen a newer old book that has a quilt I want to make.
2020: Week 2 of 15 Minutes to Stitch
I spent this week making more yo-yos. I had a box of fabric I bought a wile ago with fabrics that look like they might be 1930's reproductions, at least to my untrained eye, and have been adding them to the yo-yo bags. 100 yo-yos in each plastic bag. I have 3 bags full and have a good start to the 4th one. The ones I have made previously are pastels and the new additions are a little brighter / darker. I think it is good to add value differences to make the quilt interesting, so I am dialing up the volume a bit but trying to keep it from getting too loud. It is interesting how each new fabric changes the overall look of the mixture.
I've also given up on the yo-yo maker which requires one stitch at a time and wastes a lot of thread. The folds aren't as consistent doing it this way because my stitch length isn't very consistent, but I think that is part of the charm of a yo-yo quilt.
15 minute days this week = 7/7 days
15 minute days this year =7/7 days
Success rate = 100%
Linked with:
Life in Stitches 15 Minutes to Quilt