Hello! Welcome to Dust Off an Old Quilt Book Blog Hop!
Once upon a time, I went out to dinner with two other people. The restaurant was in a shopping center, and as we were walking back to the car, there was a thrift store in the center that pulled me in magnetically. The others in my party had no choice but to follow me in. The magnet drew me straight to the books section where I found this publication. I was so thrilled with finding two publications with patterns I had not seen before. The other people in the party wondered why I would want a dusty old booklet when I could buy a new one. I told them that there were patterns that you did not find in new books. Patterns that involved templates and methods that weren't used any more.
I was excited about this find, but I didn't make anything out of either of the publications. But when Bea told me to dust off an old book, the time had come.
How old is it? Let's see, it is copyright 1978. I do have older books, but this one is old enough for me!
Do you remember the denim cathedral windows quilt I showed you in a
previous post
? The concept is similar. You cut a shape, which this book calls a pocket, and wrap it around another fabric that the book calls a pillow. The book tells you to cut a lining fabric as well as the pocket so that you do not have any raw edges. Both this quilt and the cathedral windows have batting squares underneath the fabric squares.
I decided to use the same fabric for the shape and the lining, so cut 18 of these shapes, figuring that nine blocks would make for a good small size quilt.
The booklet has many choices of shapes to cut, and I chose this one. It looked more intricate than the others. It wasn't a good choice for my first project. I had the same trouble I had when I made the cathedral windows quilt.
The pocket encloses the pillow. Sew the pockets together, fold down the pockets over the pillows, then sew down into place.
Then a thought occurred to me. "A smart person would make this raw edge." I'm not sure I am a smart person, but I am a lazy person and the solution works for me. Since the denim cathedral windows is made raw edge, I decided to modernize this pattern by using raw edge. I am making enough pockets for the yo-yo quilt, and do not want to make any more. In 1978, there would have been shame and humiliation in showing raw edges. But it is 2020 now, and there is no such thing as shame and humiliation.
Do you see a problem yet? Those corners are very finicky and have to be sewn down exactly right. Too loose and the batting shows in the corners, too tight and the center square is not aligned properly. I thought about using glue to baste them down.
Although the pattern is for a full size quilt, I think nine blocks would be good and look like the picture. But I had cut 18 shapes, so I decided to make mine bigger to use more of those shapes. A 4 x 4 instead of a 3 x 3 grid.
I sewed the blocks together, and layered the batting and pillow fabric. I used enough pins to maim a small adult.
I have sewn a lot of these shapes down, but time slipped away from me and I did not finish by the time I went to bed on March first. I had the option of waiting to post this until I finished or to show you my progress so far. So I am showing you my progress and will edit this post later today to show you the finished quilt.
Warning! I am going to show you the finished quilt now. When I took it outside to photograph, the birds stopped singing and it became very quiet. This is your warning that you may lose your ability to speak for the rest of the day if you look at this quilt full on. I recommend getting on a galloping horse, scrolling by as fast as you can and only use your peripheral vision to look at the quilt.
Are you all right? It's over now. Each block had to have four passes of quilting to sew down the ovals. I did it in diagonal rows, down one way, flip it around and go back the other side of the oval. Finish all the rows, and then go down the other side to the other diagonal. And then back to finish the other side of the oval on that diagonal. I will probably be adding some ribbon or trim to cover up the intersections and edges, but I don't have the proper ribbon or trim right now.
I think it looks all right from a galloping horse. It is supposed to have a casual, improv look to it.
I told you earlier that we don't feel shame in 2020. That's not really true. I can't really call myself a properly smart or even lazy person. A smart or lazy person would have still made that quilt as a nine patch or maybe even a one patch. A truly smart or lazy person would have used the other book I got at the same sale and made a simple nine patch or four patch.
That book was made in 1935.
Thank you, Bea, for allowing me to participate in the
Dust Off a Quilt Book Blog Hop.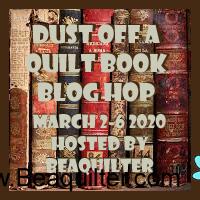 Please visit the other participants of the blog hop to see which book they have dusted off.
Here are the links to the other bloggers participating in the Dust Off a Quilt Book Blog Hop – do click on their links, check out their books and projects, and leave them a comment or two!
March 2
March 3
March 4
March 5
March 6