Hello and welcome to my blog! Today, I am participating in the Dust Off an Old Quilt Book blog hop hosted by Beaquilter. This is my third year participating in this blog hop, and I have enjoyed it each year.
In 2019, I dusted off a fairly new book, Cultural Fusion, and added a border to an existing quilt. I haven't quilted that quilt yet.

Last year, 2020, I made a Patchwork Envelope. I still haven't added the embellishments I am planning for that quilt. In that post, I showed you my oldest book, The Romance of the Patchwork Quilt in America, from 1935, but I didn't use it.


This year, I decided to dust off that old book and see what I could make from that book. There lots of great choices. My favorites were pieced, but I don't have a lot of time, and thought a quick one block applique quilt would be a good choice. It could double as my small quilt of the month. I looked for a block with a relatively small number of pieces and chose the oak leaf and reel block.
The book doesn't have patterns, so I had to dust off another book, Folk Art Quilts, to get the pattern. You can see that book at the top of the post. I am expecting to get extra credit for dusting off two books for one quilt.
My fabric choices are shown in the first picture of this blog post. Even though it is winter and there was lots of snow on the ground, I chose an orange for the oak leaves. I chose the blues for the background to give it a modern twist. Then when I was cutting the fabric, I decided to give it another twist, and use the orange as the background and a blue for the leaves. Then I thought of using white as a background with the blue leaves. That would be the ultimate minimal modern quilt. Although I like them, I have a hard time making minimal quilts. I keep wanting to add more. So I decided against the white, and to leave the blue leaves on the orange background.

Well, it is nice, but boring. I initially thought about adding a border. But adding a border would involve piecing, since I'd already cut the applique pieces so they would fit the fat quarter background. It wouldn't be just four pieces to add to the border. I would have to piece the pieces to make them long enough and I'd already decided that this quilt would be applique instead of piecing.
I went to the Cave of Wonders to see what would help, and the genie threw some pieces at me that had been in the Maximum Minimal quilt. That woke up the Maximalist in me, and every day, as I walked by the table, I would add, remove, or move pieces on this piece. I didn't take pictures on this part of the process. This process took about two weeks and I have a lot of little bits that can be used on another quilt.

Then I looked at the calendar and decided I had to be done, so I used a glue stick to hold all of the pieces down.

With all these little curvy pieces, I knew that I had to free motion quilt this. The quilting holds down the applique. I haven't done any free motion quilting since my machine broke. I think it was the darning foot that broke it. It came in a kit with lots of different sewing feet and it was sturdily made but didn't have any give. I have one that does have give and used it. Free motion quilting is my favorite part of quilting. The only reason I have quilts that need to be quilted is that basting is my least favorite part of quilting and it has to be done first.
I chose the dark teal for the binding and cut the pieces and sewed them together. But before I added them to the quilt, I changed my mind and decided to use the fabric that was used for the center flower.

I knew that it would be dark by the time I hand stitched this down, so I took a quick photo to prove that I had stitched the binding on the quilt.
And here is proof that I am hand stitching the binding down. I am scheduling this posting for early Monday morning, which means I can't show you a good reveal photo.

I took this photo before binding because I knew it would be the best lighting I would be able to get today. I will replace this one with one of the bound quilt when I get a chance to get an image, so you may want to come back to see a grand reveal. This is my third year for the Dust Off An Old Book Blog Hop and my first year having a finished quilt.
[Edited to add] Here is a quick shot I got before the wind blew the quilt away. I was able to catch it while it was still on the porch, but I will try for a better photo later. Maybe in the summer. This photo shows the colors pretty well. I've made several quilts lately with a yellow background. Each quilt has a different background and each one moved closer and closer to orange. This one definitely hopped the line to orange.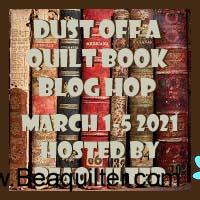 Thank you for visiting me during the Dust Off An Old Book Blog Hop. Thank you to Beaquilter for hosting this. Be sure to visit the other bloggers who are also participating in this hop.

Monday 3/1
High Road Quilter (that's me)
Tuesday 3/2
Wednesday 3/3
Thursday 3/4
Friday 3/5
Beaquilter (the hostess)


Also linked with: